Samsung Solve: Where Are They Now? Pennsylvania School Safeguards Civil Rights
In late May of 2020, peaceful demonstrations took place in the city Erie, Pennsylvania after video surfaced of George Floyd's arrest and subsequent death while in Minneapolis police custody. The downtown-area protests against systemic racism turned violent, escalating into a city-wide state of emergency. That summer, a social movement of an unprecedented scale took shape across the U.S. – and the world – against the backdrop of COVID-19. It was a pandemic within a pandemic.
In September, when remote school started at Northwest Pennsylvania Collegiate Academy, an urban, college preparatory magnet school with a student body of 850-plus, the unparalleled societal stressors were top of mind. James Fleming, Math and Engineering Principles Teacher, wanted to introduce an extracurricular activity to challenge his ninth through twelfth graders, so he entered Samsung Solve for Tomorrow, a national public-school competition that empowers the next generation of innovators to tackle pressing community issues using STEM (science, technology, engineering, and math). As a prompt, the 24-year veteran educator posed this question to his 11-student Solve for Tomorrow team: "How do we help people that want to share their voice do so without fear of intimidation?"
A month's worth of brainstorming resulted in the final vision for their STEM project. The students of Northwest Pennsylvania Collegiate Academy have a history of standing up for their beliefs. For example, back in 2018, students marched out of their classrooms as part of a national walkout to demand action on gun violence in solidarity with Marjory Stoneman Douglas High School in Parkland, Florida. "We are lucky. Our district allows us to share our voice – even when it runs counter to policy," shared 18-year-old Vanessa.
Nevertheless, the students recognize that some can be reluctant to share their voice – especially when challenged by those in power in a way that could be construed as intimidation to silence their voice and deprive them of their rights. In fact, data analysis from the summer of 2020 reveals that ninety-three percent of demonstration associated with the Black Lives Matter movement were non-violent, according to a U.S. Crisis Monitor report. But of the less than ten percent that turned violent, authorities intervened using excessive force.
"The students truly shined in the ideation phase in using their uninhibited imaginations to produce possible STEM solutions to current issues. When you hear the phrase 'think outside the box,' the box still exists – and it's limiting. The key is, the box should be removed from the equation," said James.
Subsequently, in October 2020, the We've Got Your Back app project was launched. The voice-activated mobile app turns phones into body cameras to help protect people's civil rights as they march for social justice. It also turns phones into dash cams, which 15-year-old Tanvi feels "has farther reaching potential as too many of our families, friends, and neighbors live in fear of being pulled over."
The app itself is much more complex than tapping a record video button. To save on memory, the team used their coding skills to have the app run in the background, recording and saving video in four-minute segments and deleting old, unnecessary segments. With the touch of a button, the front-facing camera is activated to give users a video record of any interactions at their car's window. The students also designed an inexpensive, protective hands-free carrier for the phone using CAD and 3D printing. "At one point during the development, we were stuck, but we consulted with computer science students at Erie's Gannon University to guide us through camera functionality implementation and floating action button design," said 17-year-old Eric, one of the lead coders.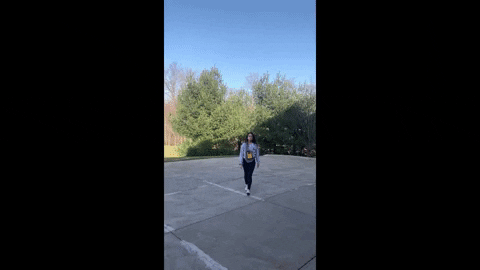 Sixteen-year-old Sahil led community outreach for the project and garnered the early attention of Jack Daneri, the then Erie County District Attorney. "He provided us with a holistic understanding of the social implications of the app and laws regarding camera usage and recording in public. As a result, we were able to gain the support of his office, as well as Pennsylvania State Representative Robert Merski's (D-Erie) office and other key community members."
In April of 2021, We've Got Your Back app became the 2020-2021 Samsung Solve for Tomorrow National Winner, making Northwest Pennsylvania Collegiate Academy the ONLY two-time national winning school. (They were 2014-2015 National Winners for a vertical farming project.) James and the students hope to collaborate with a developer to go from beta form to releasing the app into app stores in the spring.
Beyond academic achievement, the creation of the app has fulfilled the students personally. 17-year-old Tia expressed plans to "become more active in the community – especially in the fight for social justice causes that I believe in." Tanvi is leaning towards getting involved in community service to make a real impact in people's lives. The project has generated newfound interest in Sahil to pursue a future STEM career, specifically in programming. And Eric's existing affinity for STEM has only been heightened with aspirations of becoming a professional in the field.
"We're a Liberal Arts school that recognizes the importance of STEM education. We want to ensure that we're giving our students the best, most well-rounded experience so that we can set them up for success. Samsung Solve for Tomorrow is helping us expand their minds and opportunities. And if these students are any indication, the future is bright," added James.
Teacher
James Fleming, Math & Engineering Principles Teacher
School
Northwest Pennsylvania Collegiate Academy
Location
Erie, Pennsylvania
Samsung Solve for Tomorrow Stats
▪ 2014-2015 Samsung Solve for Tomorrow National Winner
▪ 2015-2016 Samsung Solve for Tomorrow State Finalist
▪ 2016-2017 Samsung Solve for Tomorrow competitor
▪ Samsung Solve for Tomorrow Teacher Advisor 2018-2020
▪ Samsung Solve for Tomorrow Teacher Academy Summer 2019 Cohort
▪ Samsung Solve for Tomorrow Teacher Academy Summer 2020 Cohort
▪ 2020-2021 Samsung Solve for Tomorrow National Winner